This is the Exsisting Landscape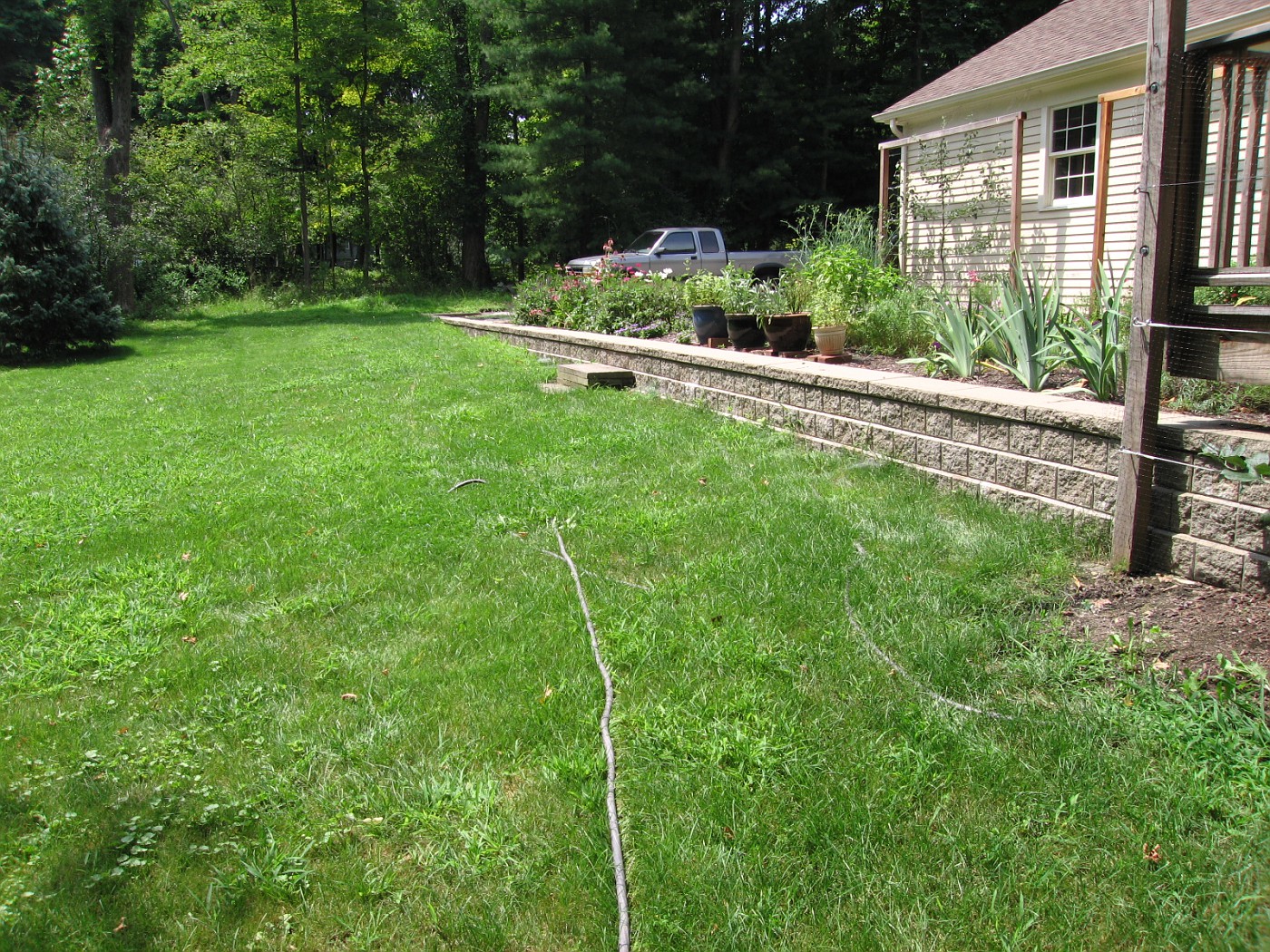 I was asked to come up with an idea for a designed space where the seating area was extended out onto the exsisting lawn, a perennial/cutting garden above the wall, and find a place for a hot-tub.

It made sense to tie the hot-tub into the deck space so there would be good solid footing to get to the tub from the house, and at the same time keep it fairly close to the house and yet be in its own space. While not infringing the patio/entertaining space.

My Version of New Landscape


Designing hot-tubs into these spaces, heck designing hot-tubs into almost any backyard . . .  is tough. They are big clunky boxes, even the best designed ones are big clunky boxes. Add in the logistical requirements needed to run hot-tubs. The electrical, plumbing, servicing, etc.

Whats even worse is most designers don't even try to add in the hot-tub in a harmonius way. Homeowners . . . forget about it, just drop the box on the patio.

The real problem is that this is usually considered something needed for a private space, but almost always is sited in the most public of spaces, sometimes right next to the picnic table or grill . . . how romantic!!! Which is the context in which most homeowners ask me to find a space for the hot-tub . . . a clam, quiet, romantic place for the husband-wife.

Where space considerations are a factor usually the best we can do is place the tub in a corner of the patio. The corner chosen should be the one where there will be the least amount of traffic or commotion. Away form the back and forth of people. Hopefully the patio will be large enough to allow for furniture and other stuff to be placed on the opposite end. Add to that landscaping that will compliment the space, and compliment the mood of the space.

A Conceptual Plan View of the Landscape Design


This is a plan view drawing of the same space shown in the rendering above. These conceptual drawings work together to tell the story of where this space could go.

I have spoken about this before, the plan-view drawing is how most designers/contractors present their solutions to homeowners-it doesn't work. Most Americans can't read a road map, and most people are not good at visualization. The plan-view drawing helps solve neither of these issues. Where the rendeering does solve those problems.

The solution is right in front of them, it's like the story of a picture is worth a 1,000 words. Well then, what's a rendering worth? To the homeowne? To the contractor?

The rendering shows the potential of the space, and the plan-view drawing shows the scale of the impacted space. Together they present the entire story of the space's potential.